CGBSE 9th Tamil Syllabus 2023 is published by the CG Board. Now class 9 students across Chhattisgarh Board can study Tamil as per latest curriculum. Therefore you too can now download the CG Board Class 9 Syllabus for Tamil PDF in Hindi, English Medium here at aglasem. Use this CGBSE 9th syllabus of Tamil to know which topics to read from CGBSE 9th Tamil book.
CGBSE 9th Tamil Syllabus 2023
The CG Board syllabus for class 9 Tamil is as follows. The syllabus for CGBSE 9th Tamil is the list of chapters, and their marks weightage. If you study in class 9 in a CGBSE school, then you study these chapters only in Tamil subject. And questions in Tamil exam will be as per it only.
---
CGBSE 9th Tamil Syllabus 2023 Download Link – Click Here to Download Syllabus PDF
---
You can get more study material here – Chhattisgarh Board Class 9.
CGBSE 9th Tamil Syllabus 2023 PDF
The complete syllabus is as follows.
CG Board 9th Syllabus 2023 Tamil View Download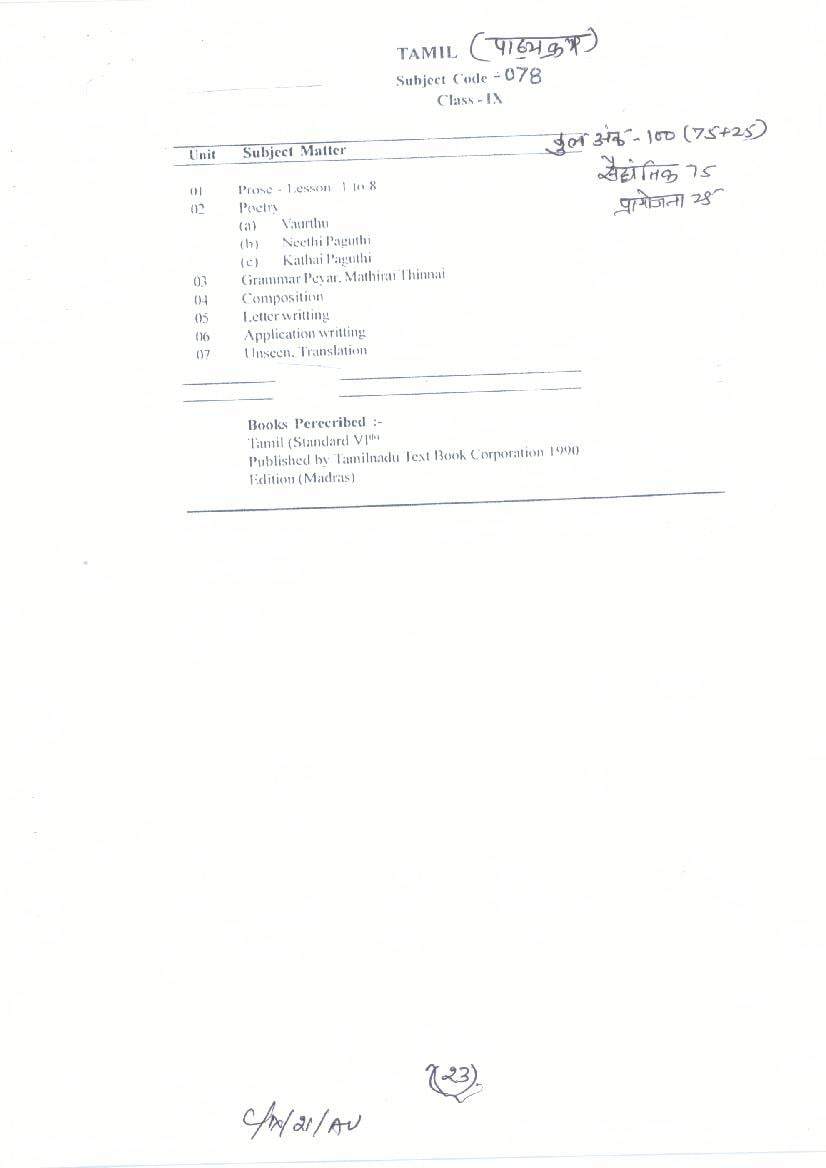 CG Board Class 9 Syllabus
In addition to Tamil, you need to study other subjects to complete your class 9 course. Therefore here are the subject-wise CGBSE class 9 syllabus for all subjects.
CGBSE Syllabus
You can explore all classes CGBSE syllabus besides the class 9 Tamil given here. However you should also keep checking cgbse.nic.in for any changes in curriculum.
CG Board Class 9 Tamil Syllabus – An Overview
Some information about this study material is detailed below.
| Aspects | Details |
| --- | --- |
| State | Chhattisgarh |
| Education Board | CGBSE |
| Class | Class 9 |
| Subject | Tamil |
| All CG Board Class 9 Syllabus | CGBSE 9th Syllabus |
| Full Form of CGBSE | Chhattisgarh Board of Secondary Education |
| Complete CG Board Syllabus | CGBSE Syllabus |
CG Board Solutions for Class 9 Tamil
You must have seen the CGBSE 9th Tamil syllabus from here. Now you need to study it from Chhattisgarh Board Class 9th Tamil Textbooks. While solving exercises, you can take help of CGBSE Class 9 Tamil Solutions. You will find the CG Board Solutions for 9th Class including for Tamil online in Hindi and English medium. After completing them, solve CG Board 9th Tamil model papers to complete your exam prep.
If you have any queries on CGBSE 9th Tamil Syllabus 2023, then please ask in comments below.