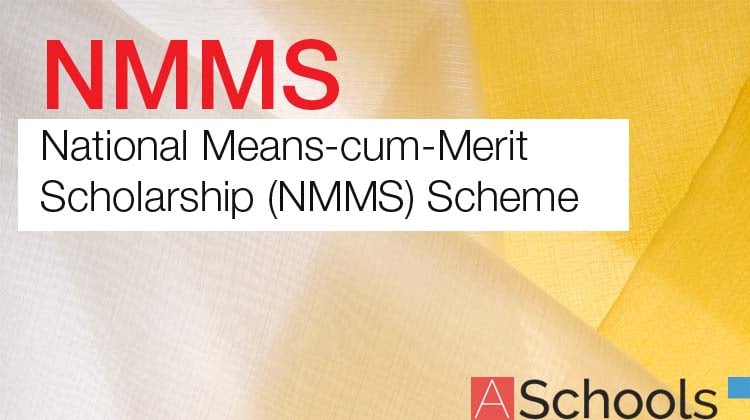 National Means – Cum- Merit Scholarship Scheme is a flagship activity of the NCERT New Delhi started in the year 2008. The purpose of the scheme is to identify talented students in Economical Backward group and nurture their talent. Talent refers to the potentiality that manifests itself in a high level of performance in one of more specialized areas. It honours and helps the talented student by providing financial assistance in the form of a monthly Scholarship this assistance is provided up to XIIth level.
Latest: The Maharashtra NMMS 2018 – 2019 Result has been released. Scroll down to check the same.
Maharashtra NMMS 2018 – 2019
On the basis of the examination, scholarships will be awarded to those whose parents having income less than Rs. 1, 50,000/- and are appearing for class VIII, having secure 55% marks in VIIth STD. (for reserve candidate 50%) and studying in recognized schools only. Students studying in non-recognized school will not be eligible. Candidates can check the given schedule for the dates concerning Maharashtra NMMS 2018.
Events
Dates (Revised)
Dates for Form submission without late fee – Rs.100/-
12 Sep to 24 Oct 2018
Dates for Form submission with late fee – Rs.200/-
25 to 31 Oct 2018
Dates for Form submission with fine – Rs.300/- (for students)
Dates for Form submission with fine – Rs.400/- (for Schools)
Not Applicable
Date of Maharashtra NMMS 2018
09 Dec 2018
Notice: Click Here to check the notice regarding the extension of the last date.
Result
Maharashtra NMMS 2018 – 2019 Result has been announced officially online on the website. The candidates can check their result from the official website OR through the direct link which has been provided after the announcement of the result. Candidates can find merit list under various categories from the link provided below. Check result from the link provided below.
Result:
Click here to check the result for NMMS 2018-19.
Click here to check the press note regarding the release of result for NMMS 2018-19
Answer Key
The Final Answer Key of Maharashtra NMMS 2018-19 Examination has been released by the officials. Candidates who appeared for the exam is now able to check the answer.
Answer key:
Application Form
Online Application forms for Maharashtra NMMS are available to schools as per the schedule that is be mentioned on the official website of  MSCE. SBI Challans will also be made available on the website. Only school authority shall be able to fill the online forms and 'S' forms. Printout of all online forms, along with attested copies of caste, disability and income certificates, duly signed by student, parent & head master, 'S' forms print out signed by Head Master of school and SBI Challan (amount deposited in favour of MSCE) are to be submitted by school to the respective Education Officer/Educational inspectors on or before the last date.
Application Process Over..!!
Examination Fee: The examination fee per students will be Rs. 100/- and affiliation fee of Rs. 200/- per academic year per institution will be required. (only through school by SBI challan)
Incomplete/wrongly filled in application forms will be rejected & no correspondence will be entertained in connection with it.
Eligibility Criteria
Students who have passed VIIth STD with 55% marks (Reserve Candidate 50%) & studying in class VIIIth in recognized schools of Government, Government Aided and Local bodies will only be eligible to appear for the NMMS examination conducted by the State in which the schools are located. Total Annual income of parents should be below Rs. 1,50,000/-) case certificate, income certificate disability certificate should be given by Tahasildar/proper authority/Talathi. The students studying in Kendriya Vidyalayas and Jawahar Navodaya Vidyalayas will not be entitled to get scholarship under this scheme. Similarly, those students studying in Residential schools run by the State Government Institutions where facilities like boarding, lodging and education are provided, and students studying in private schools will also not be eligible for the scholarship under the scheme
Admit Card
National Means – Cum- Merit Scholarship Scheme 2018 – 19 Admit card will be released officially once the registration process for the same is over. In order to download the admit card, candidates will have to provide their credentials like School UDISE Code and password. Candidates are advised to carefully check details in admit card and entry in the examination hall will be done after the verification of admit card.
Exam Pattern
The pattern of written examination will comprise two parts, namely
(A) Mental Ability Test (MAT)
(B) Scholastic Aptitude Test (SAT) covering social sciences, science and mathematics.
Subject
Marks
No. of Question
Minutes
Timings
Mental Ability Test (MAT)
90
90
90 minutes
10:30 a.m. to 12:00 p.m.
                                                   Break (12:30 p.m. to 13:30 p.m.)
Scholastic Ability Test (SAT)
90
90
90 minutes
13:30 p.m. to 15:00 p.m.
Selection Process
There will be a selection process for award of scholarship. Selection will be done by States / UTs through written examination students who qualify For the NMMS Scheme. The student must pass in both the tests i.e. MAT & SAT with atleast 40% marks in aggregate taken together for both tests. Cut off for SC/ST students will be 32% marks.
Reservation
Each state / Union Territory has been allotted a quota to recommend a specific number of candidates. The scholarships percentage will be allotted as per state caste wise reservation as follows.
SC – 13.00
ST – 07.00
VJ – 03.00
NTB – 2.50
NTC – 3.50
NTD – 2.00
OBC – 19.00
SBC – 02.00
There will be also 3% reservation for disables in each caste category. The Scholarship will be distributed according to quota to each district & caste category.
---
Maharashtra NMMS 2016 – 2017
Final Answer key
Final Answer key of Maharashtra NMMS has been released. Candidates can check the answer from the link provided below.
Result
Result of the Maharashtra NMMS examination has been announced by the respective state Government. Candidates can also check the result through the direct link provided below.
Official Website: www.mscepune.in
For more detail on Maharashtra NMMS 2018 – 2019, candidates can check the Official Notification.