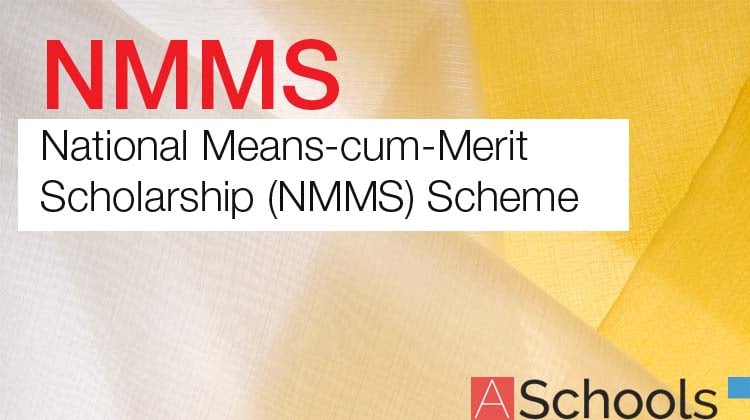 Applicants are welcome to apply for National Means Cum Merit Scholarship specifically for class-VIII students of Jammu and Kashmir State, who have passed class-VII in the year -2017 in case of Kashmir Division and 2018 in case of Jammu Division, for a Centrally Sponsored National Means Cum Merit Scholarship Scheme (NMMSS), which will be approximately of Rs 12000/- (Rupees five hundred only) per annum (Rs 48000/- for four years) from class 9th to 12th. This year 1068 scholarships will be awarded to the selected candidates.
Latest:
The date of Jammu and Kashmir NMMS 2018 exam has been revised,
check here
.
Jammu and Kashmir NMMS 2018-2019 – National Means Cum Merit for Class VIII
The main objective of this course is particularly to award scholarships to meritorious students belonging to economically weaker sections to arrest their drop out at Class VIII and to encourage them to continue their studies till Class XII. Candidates can check the information on this page for a clear understanding of the procedure to apply for this course, its results and other important information. The duration of the examination will be 90 minutes. The Schedule for Jammu and Kashmir NMMS 2018 is given below.
| Events | Date (Revised) |
| --- | --- |
| Last date for submission of application form | 15 Oct 2018 |
| Date of admit card | 01 Nov 2018 |
| Date of examination | 25 Nov 2018 |
Application Form
The Application Forms is now available at the official website. Candidates can download it from the link available below. Before filling the application form, candidates must ensure their eligibility.
Application Fees
The application forms duly attested by the Head of the Institution and accompanied by the requisite certificates (Qualification certificate, reserved category certificate, if any) and Bank Draft favoring Liaison Officer, NMMSS of Rs 60/-(Rupees fifty only) favoring Liaison Officer, NMMSS, deposited Wing Bemina, Bye pass, Srinagar/Rehari Colony, Jammu /Sub/branch Offices of JKBOSE  before 15th September, 2018.
Eligibility Criteria
Studying in Government Schools, Government aided schools.
Parental income should not exceed more than Rs 1,50,000/= per annum;
Having scored at least 55% marks in Class-VII examination of General category and 50% marks in case of SC, ST, and other Reserved Categories.
Admit Card
The candidates shall collect the admit cards from the respective Branch/Sub-offices of the concerned Districts except for Jammu District. The candidates of Jammu district shall collect admit cards from CDR Wing- JD, J&K Bose Rehari Jammu. Notice regarding admit card and sessions will be mentioned on the official website www.jkbose.jk.gov.in and can be downloaded from there only.
Examination Scheme
The examination will be conducted in two sessions. A candidate can check the information given below to know more about the exam pattern.
First Session
Mental Aptitude Test (MAT) with 90 question items, total 90 Questions of multiple choice testing verbal and non-verbal metacognitive abilities like reasoning and critical thinking, The questions in the test may be on analogy,classification ,numerical series, pattern perception, hidden figures. of one mark each (90 marks).
Duration of Examination: 90 minutes
Second session
Scholastic Aptitude Test (SAT) with 90 question items of multiple choice covering subjects namely Science, Social Studies and mathematics as taught in classes VII and VIII. (90 Marks)
Result
Result of National Means Cum Merit Scholarship will be released by The Jammu & Kashmir State Board of School Education. The exam takes place for the class 8th students and results for the same will be uploaded around last week of November 2018 at various centers across the state. Candidates can check the result on official website. A direct link to result will be mentioned on this page later when any information comes about the results for the convenience of students.
Seat Matrix
The seats for State Quota allotted are 1068 for students and Reservation of seats will be based as per the State norms.
Official Website: jkbose.jk.gov.in
For more details on Jammu and Kashmir NMMS 2018 – 2019, download Notification.