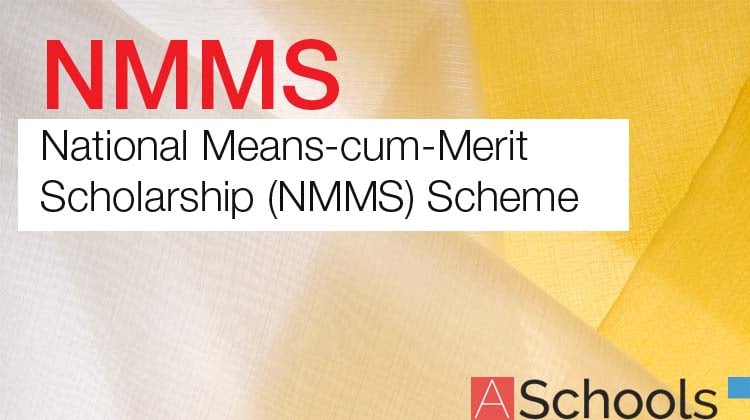 The National Means cum Merit Scholarship Examination (NMMS) is conducted every year by Science Branch of Directorate of Education, Delhi usually in the month of November for the students studying in class VIII of Govt./Aided schools. It is a centrally sponsored scheme of Ministry of Human Resource Development (MHRD) Govt. of India.
Latest: The Answer Key of NMMS Exam 2018-2019 has been released. Scroll down to check the same.
Delhi NMMS 2018 – 2019 – National Means Cum Merit for Class VIII
National Means – Cum- Merit Examination (NMMS)-2018-19 to be conducted on December 16, 2018, for the students presently studying in Class-VIII in Govt. / Govt Aided and Local Body Schools (NDMC) under the jurisdiction of Delhi The selected students will be nominated to MHRD for disbursing scholarship.
Delhi State Level NMMS Important Dates is given below.
Events
Dates
Submission of Application cum Admit Card &
Performa 'A' duly filled in by H.O.S in the Science Branch
10 – 20 Sep 2018 ( Except Saturday and Sunday )
Roll no will be issued by Sc Branch
12 – 22 Nov 03 to 10 Dec 2018
Date of Exam
16 Dec 2018
Date of release of Answer Key
11 Jan 2019
Answer Key
Answer Key of the exam held on December 16, 2018, has been released on the official website. Candidates can check or download the answer key for Delhi NMMS 2018 exam from the direct link which is provided below. The feedback or any discrepancy regarding the answer key may be sent by January 14, 2019, up to 6 PM at the email address [email protected]
Answer key: Click here to check the Answer Key of NMMS Exam 2018-2019.
Admit Card
Candidates are directed to issue Photo Admit Cards duly signed by HOS along with a copy of Income Certificate of Parent and Caste Certificate. The candidates should bring all the three documents to the Examination Centres positively.
Click here to check the notice regarding NMMS Examination 2018-19.
Eligibility Criteria
The Students who have secured 55% marks in class VII for General category and 50% marks for the Reserved categories in the session 2017-18. The parental annual income from all sources should not exceed Rs.1, 50,000/- for all categories of students during 2018-19 and they will provide Income certificate from Employer (Certified Pay slip) or their area Tehsildar.
Delhi NMMS 2018 – 2019 Application Form
Application-cum-Admit Card for Delhi NMMS 2018 – 19 had been released on the official website i.e. www.edudel.nic.in on Public circulars and the direct link of the same had also been provided below.
Application process is over now!!
Note:
Head of the Schools will get the Application-cum-Admit Card filled by the students in triplicate and fill the Performa 'A' in triplicate.
2 copies of Performa 'A' & one set of Application-cum-Admit Card is to be submitted by the H.O.S/Principal to the DEO (Science Branch).
The Acknowledgement will be given on the 3rd copy or Performa 'A'
Filled in Application cum Admit Card in duplicate will be retained by the School out of which one Application-cum-Admit Card will be issued 10the student after the receipt of Roll No. & Centre Name from this Branch by post. One copy is to be maintained in the school.
Application-cum-Admit Card issued by the school should be attested by the Principal.
No student will be issued Roll No. by the School Authority on its own. Other than the Roll Number issued by the Science Branch.
Attested Copy of caste/PH certificate is to be attached with the application form. Caste/Catcgoryoncc submitted will not be changed.
While filling the application form, percentage of marks is to be filled instead of CGPA.
Application sent by Post will not be accepted.
Application received after the stipulated date and incomplete applications will not be entertained.
---
Answer key 2017-18
Delhi NMMS Previous Year Papers
For more details regarding Delhi NMMS 2018 – 19 – Download the information broucher
Official Website: edudel.nic.in