Class 12 Important Questions for Maths – Inverse Trigonometric Function
NCERT Exemplar Class 12 Maths is very important resource for students preparing for XII Board Examination. Here we have provided NCERT Exemplar Problems Solutions along with NCERT Exemplar Problems Class 12.
Question from very important topics are covered by NCERT Exemplar Class 12. You also get idea about the type of questions and method to answer in your class 12th examination.
Here you can get Class 12 Important Questions Maths based on NCERT Text book for Class XII. Maths Class 12 Important Questions are very helpful to score high marks in board exams. Here we have covered Important Questions on Inverse Trigonometric Function for Class 12 Maths subject.
Maths Important Questions Class 12 are given below.
Short Answer Type Questions
Long Answer Type Questions
Multiple Choice Questions
Fill In Blanks Type Questions
True or False Statements Type Questions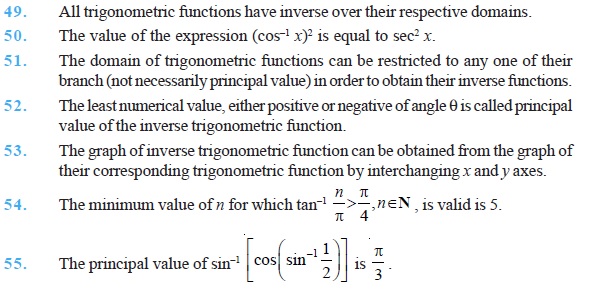 Go Back to Maths Home Page Physics Chemistry Biology
To get fastest exam alerts and government job alerts in India, join our Telegram channel.