JAC 11th Exam Date is released by Jharkhand Academic Council. If you are a student of class 11 of Jharkhand, in JAC school, then you will have a board exam. Therefore know your Jharkhand 11th time table 2023 to know all your subject-wise exam date and time. In addition, you can download the JAC Class 11 Exam Date PDF so that you can refer to the schedule anytime. JAC exam date are published at jac.jharkhand.gov.in. 
Latest – JAC 11th Exam Date 2023 is out. Scroll down to check exam date and download pdf.
JAC 11th Exam Date 2023
What is JAC 11th Exam Date 2023?
The JAC 11th Exam Date is the compilation of exam dates and times for all the subjects for which there is JAC class 11 board exam.
---
JAC 11th Exam Date 2023 PDF Download Link – Click Here to Download Exam Date PDF
---
JAC 11th Exam Date 2023 PDF Download
The portable document format of the JAC Class 11 date sheet is as follows.
JAC 11th Time Table 2023 View Download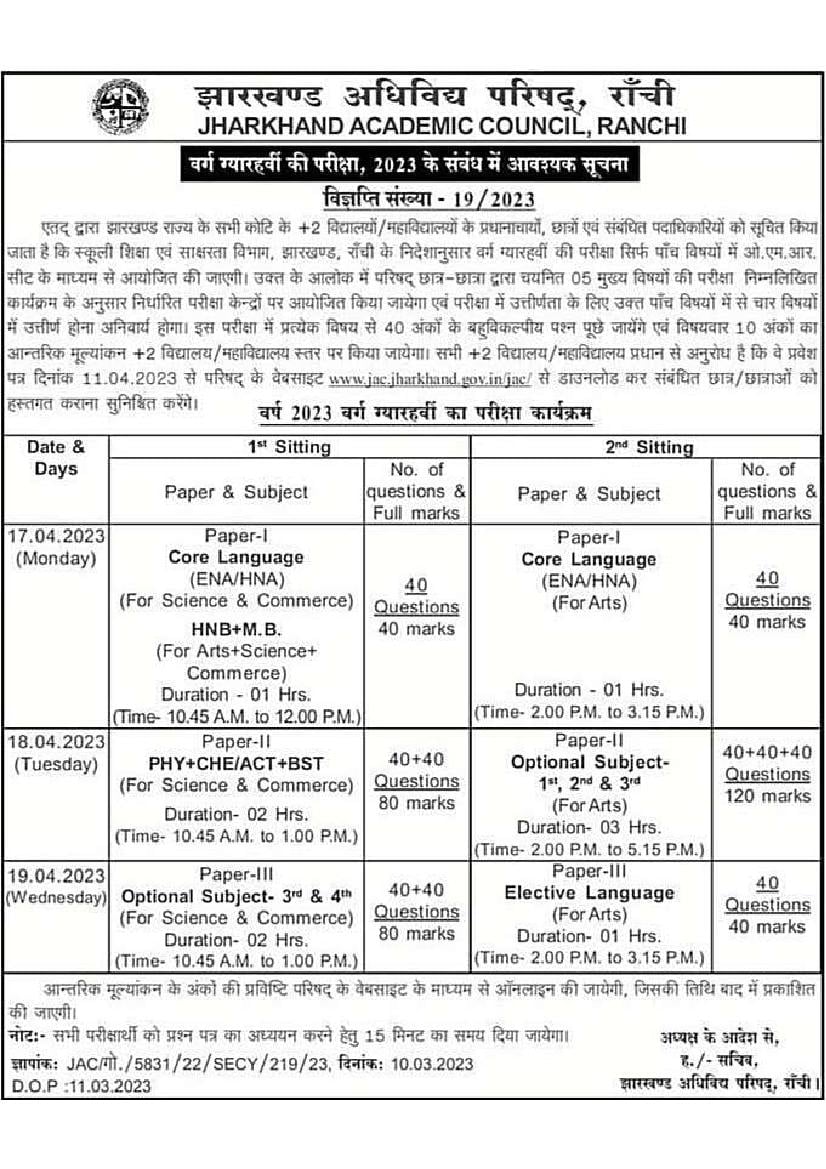 Class 11 Board Exam
There is a board exam for class 11 students of JAC.
The exam dates of class 11 board exam by Jharkhand is at the State level.
Only those students who are studying in JAC schools and currently in 11th standard need to appear in this board exam.
Class 11 Exam Date
There are separate exam dates for all JAC class 11 subjects.
All class 11 exam dates are in JAC 11th Exam Date.
Moreover, JAC class 11th result 2023 date depends on the exam dates.
JAC 11th Exam Date 2023 – An Overview
| | |
| --- | --- |
| State | Jharkhand |
| Class | 11th / XIth |
| Name of Board | JAC |
| Full form of JAC | Jharkhand Academic Council |
| Time Table Here | JAC 11th Exam Date |
| Official Website for JAC 11th Exam Date | jac.jharkhand.gov.in |
| Level of exam of JAC 11th Exam Date | State |